We are a group of men and women that are enthusiastic hobby woodworkers and are keen to share our love of wood and skills with anyone who wishes to join us.
We have been active since 1987 and, in any given year, we have between 80 and 100 members of all ages and skill levels. We have a purpose-built workshop located at 3 Cherokee Place, Mount Maunganui, Tauranga which is well-equipped with equipment and tools. Our Carving, Turning, Scroll Saw & Open Workshop Groups all meet each month. On the 3rd Saturday of every month, at 1.30pm, we have a general meeting when we welcome visitors and members to a demonstration along with refreshments. Our Guild Brochure defines meeting times, contact details and our annual fees. Men and women are encouraged to join us and share the joy of crafting wood projects.
TWG Scrollsaw Workshop 2021
Due to COVID lockdowns in 2020, the planned Annual Scrollsaw Workshop has been rescheduled to the 10th of April 2021. The workshop will cover Intarsia, bevel and compound cutting as well as fretwork. We invite participants from throughout New Zealand to attend this will regarded workshop. The registration form should be sent to the Guild with registration and payments needing to be made by the 27th of March.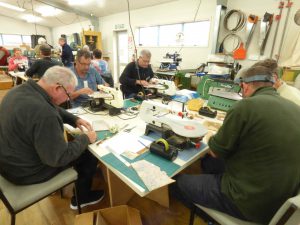 Participants at our 2018 Workshop
2020 Annual Show
In November 2020 we hosted our annual three day Expo and Sales show where we were able to demonstrate the range of skills and crafts that are possible within the Guild as well as providing a venue to member's and commercial sales. For the first time we joined forces with the BOP Garden and Art festival where we became a "point of interest" for those participants. We also invited the Tauranga Miniatures and Plastic Modellers Clubs to present displays of their crafts during our show.
The show was very successful thanks to all the hard work put in by members. The initiatives meant that there was a 22% increase in visitor attendance and stall sales were mostly higher than in previous years.
Photos at the right are from this year's show.